-Glenn Barnd | Mansions On the Plaza
"Mr. Blackwell,
I wanted to take a moment to share just how thankful we are regarding Charles' outstanding work ethic, wonderful personality, and what he brings to Mansions on the Plaza.
Last night we had an emergency situation here at Mansions on the Plaza.  This happened about 40 minutes prior to the end of his shift.  Charles got a call from a resident stating that they were at their neighbors door, the smoke alarms are going off and they can smell something burning.  Charles was quick to grab the keys to the unit and run over there.  When he opened the door the unit was filled with smoke.  As he went in, he removed the burning pot and placed it in the sink.  He then found the resident on the floor and he pulled her from the apartment into the corridor to get her out of the smoke and evaluate her until the fire department arrived.  During all of this Charles was calm and did everything he could to make sure everything was under control and taken care of.  He did an amazing job, and his quick actions possibly saved the resident's life and a major fire.
I wanted you to know this, as Charles is truly an exceptional employee and represents Blackwell very positively.  He is a great team leader, and is always making sure he and his team are doing things in the best interest of both Blackwell and Mansions on the Plaza.
I wish you and your family a safe and happy Thanksgiving!"
-Glenn Barnd
Mansions On the Plaza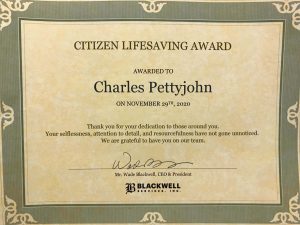 Blackwell Services, Inc.

Headquarted in St. Louis MO, proudly serving our cities and districts nationwide with distinction.
Office

9378 Olive Boulevard, Suite 330
St. Louis, MO 63132
(314) 993.3800